Xbox Game Pass ogni mese si aggiorna portando nuovi videogiochi agli abbonati su PC e Xbox One. Scopri con noi i titoli in arrivo per il mese di gennaio!
Xbox Game Pass gennaio: ecco i giochi in arrivo
Ecco la lista dei videogiochi che arriveranno durante il mese di gennaio:
eFootball PES 2021 Season Update (Xbox e Android) – 7 gennaio
Injustice 2 (Android, Console e PC) – 7 gennaio
The Little Acre (Android e Console) – 7 gennaio
Neoverse (PC) – 14 gennaio
Torchlight III (Android e Console) – 14 gennaio
What Remains of Edith Finch (PC) – 14 gennaio
YIIK: A Postmodern RPG (PC) – 14 gennaio
In uscita dal catalogo dal 15 di questo mese, troviamo invece:
FTL: Faster Than Light (PC)
My Friend Pedro (Console e PC)
Sword Art Online: Fatal Bullet (Console)
Tekken 7 (Console)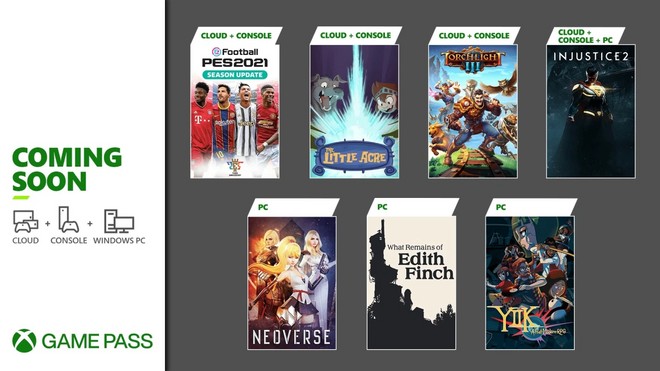 Se pensi che l'articolo possa essere utile anche ai tuoi amici, condividi l'articolo sui Social, controlla regolarmente il nostro Sito e vieni a trovarci nel nostro gruppo Telegram!
Visita la nostra sezione sconti sul sito, potrai trovare prodotti a prezzi scontatissimi!
Abbiamo inoltre un canale Telegram dove potrai trovare le migliori offerte di Amazon! Se hai ulteriori dubbi o vuoi aprire una discussione, sentiti libero di commentare sulla nostra pagina Instagram!
Seguici su tutti i social!